Information Technology Security (Master's program)
Overview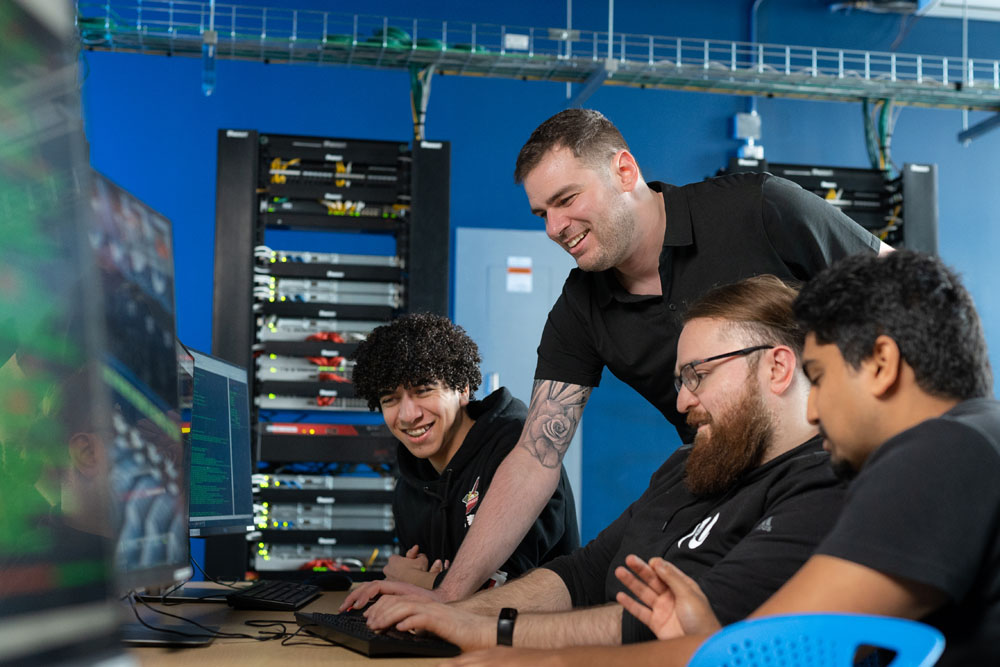 The master's program in Information Technology Security is one of the first of its kind in Canada and one of few specialized IT security graduate degree programs available in the world.
The Master of Information Technology Security (MITS) program is a graduate professional program that prepares individuals to work in the high-demand IT security industry. The program adopts a project method that provides students with the experience to apply core course materials to a substantial project in the workplace during the latter part of the program.

The MITS program is one of the first of its kind in Canada and one of few specialized IT security graduate degree programs available in the world. Through theory and applied learning, the program enables students to develop an extensive understanding of business and information technology security, polish communication skills and examine business and IT ethics in a team environment.
To achieve the objectives of the program and to enhance students' learning experience, it is important for the program to provide students with the necessary hands-on skills and knowledge. The Faculty of Business and Information Technology provides a Hacker Research Lab to enhance the curriculum of the MITS program. This lab facility hosts an array of network settings and consists of a variety of network equipment and wireless devices in a secure setting. It offers students a secluded environment within which to work on various IT security projects and experiments.
The MITS curriculum contains the domains found in the Certified Information Systems Security Profession (CISSP) exam. The curriculum also provides students with the opportunity to apply core course concepts to a substantial project in the workplace. This plan of study introduces students to the fundamental knowledge of the ever-changing IT security field. MITS graduates will not only be able to understand and apply the best of current practice but will also be able to act as managers of transformation to improve that practice as the field evolves. MITS graduates are prepared to work in different levels as IT security professionals.
Fields
MITS students have the option to study the field of Artificial Intelligence in Security within the program. This professional stream is the first of its kind in Canada and combines a deep knowledge of IT Security with hands-on knowledge of artificial intelligence systems and machine learning, and provides students with a comprehensive understanding of the applications of this technology. Graduates of this program can seek employment in the growing artificial intelligence industry as well as IT security firms.
Admissions
Admissions
While applicants may hold any four-year honours undergraduate degree (or its equivalent from a recognized institution), preference is given to applicants whose undergraduate degree is in the field of information technology, engineering, science or related fields.
Minimum overall academic standing of a B (GPA: 3.0 on a 4.3 scale or 73 to 76 per cent), with a minimum B average in the last two full-time years (four semesters) of undergraduate work or equivalent.
Successful completion of at least one course in advanced programming (e.g., Java/C/C++/C#) and advanced mathematics (e.g., linear algebra, calculus, number theory, etc.), and at least one course or proven work experience in operating systems (Windows and/or Unix or Linux).
Work experience in IT-related jobs is preferred.
Direct entry (college pathways):
Graduates of the graduate certificate program in Information System Security (GC-ISS) at Durham College will be considered for admission under the following conditions:

Completion of the GC-ISS program at Durham College with a

 

minimum GPA of B+

 

(3.3 on a 4.3 scale). 
Must have also completed a three-year college advanced diploma program in a relevant field such as computer technology or information science with a

 

GPA of B+ or higher. This program should include courses in programming, operating systems and college-level mathematics.
Two letters of reference from employers

 

and

 

two letters of reference from instructors in the GC-ISS program.
At least three years of technical work experience in the field of information technology, computer systems or programming.
Required supporting documents:
Please see the checklist of required documents for a list of supporting documentation that must be submitted with your application.
Required test scores for English language proficiency:
See English language proficiency for the minimum required test scores for this program.
Please see application deadlines for specific dates. Note that the application deadlines listed are for both the online application and all supporting documentation.
Applications for admission to all graduate studies programs are submitted online. There are five steps you must go through to complete the application process. See application process and requirements for step-by-step instructions.
---
Many of our graduate programs are extremely competitive; the number of qualified applicants normally exceeds the number of seats available for each intake. Satisfaction of minimum entry requirements does not ensure admission.
Additional information
Sample courses:
Law and Ethics of IT Security
Advanced Communication Networks
Operating Systems Security
Secure Software Systems
Cryptography and Secure Communications
Security Policies and Risk Management
MITS Seminar
Attack and Defence
Biometrics/Access Control and Smart Card Technology
One

 

of the following options:

IT Security Capstone Research Project I and II
Two elective courses
Internship (at least 12 weeks full-time or 420 hours in length)
REVIEW PROGRAM MAPS - MITS-AIS
For program requirements, including required number of credits for completion and course descriptions, please see the Graduate Academic Calendar and Course Catalogue.
For program requirements, including required number of credits for completion, program maps and course descriptions, please see
the academic calendar and course catalogue of
Loading...
.
Courses are subject to change without notice.
Applicants to professional or course-based programs are not normally considered for internal funding sources such as entrance scholarships, minimum funding packages, teaching assistantships, research assistantships or graduate research assistantships.
While external scholarships and awards for graduate students who fall under the above criteria are often limited, we encourage you to explore some of the external scholarship databases available for possible funding opportunities.
Tuition fees for graduate programs are charged on a flat-fee or fee-per-credit basis and vary by program and student status.
For current, specific fees and details on flat-fee versus fee-per-credit programs, please see tuition and fees.