Computer Science (Master's program)
Overview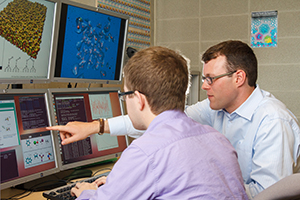 The Computer Science master's program is broad based and covers concepts from engineering, science and business with the aim of producing high-quality software professionals.
The Master of Science (MSc) in Computer Science is a broad-based program that covers concepts from engineering, science and business with the aim of producing high-quality software professionals. The aim of the MSc program is to produce a new breed of computer science graduates that have a broad background in information technology along with project management and people skills. Graduates of this program will not only have strong technical expertise in their particular field, but will also have the ability to work effectively in interdisciplinary teams and be able to tackle problems that require both technical and non-technical solutions.
The MSc program differs from most existing computer science programs as it concentrates on both applied research and the development of professional skills. The intention is that most of the graduates from this program will build careers in industrial research and software development. The program focuses on the skills required for successful careers in industry, reflecting the university's goals to be market-oriented and to provide high-quality professional education.
The MSc program provides students with the opportunity to work in teams and develop leadership skills. Students are also given ample opportunity to develop their written and oral communication skills. MSc students are strongly encouraged to present their research results at scientific conferences.
Admissions
Admissions
Hold a four-year honours undergraduate degree in computer science, computer engineering, information technology or software engineering from a Canadian university, or its equivalent from a recognized institution.
Minimum overall academic standing of a B (GPA: 3.0 on a 4.3 scale or 73 to 76 per cent), with a minimum B average in the last two full-time years (four semesters) of undergraduate work or equivalent.
Required supporting documents:
Please see the checklist of required documents for a list of supporting documentation that must be submitted with your application.
Additional requirements:
Admission depends on the availability of a research supervisor. It is recommended that applicants contact a potential supervisor before formally applying. 
In their statement of academic intent, applicants should include the type(s) of course(s) they feel they are suitable to teach as teaching assistants.
Required test scores for English language proficiency:
See English language proficiency for the minimum required test scores for this program.
Please see application deadlines for specific dates. Note that the application deadlines listed are for both the online application and all supporting documentation.
Applications for admission to all graduate studies programs are submitted online. There are five steps you must go through to complete the application process. See application process and requirements for step-by-step instructions.
---
Many of our graduate programs are extremely competitive; the number of qualified applicants normally exceeds the number of seats available for each intake. Satisfaction of minimum entry requirements does not ensure admission.
Research areas
Artificial intelligence
Computer graphics
Computer vision
Data science
Distributed computing
Health informatics
Information visualization
Network design
Network security
Robotics
Serious games
Software engineering
Ubiquitous computing
Virtual reality
Learn more about the research areas within this program and find research experts by visiting the faculty's website and the university's Expert Centre.
Additional information
For program requirements, including required number of credits for completion, program maps and course descriptions, please see
the academic calendar and course catalogue of
Loading...
.
Courses are subject to change without notice.
Internal awards and funding
Applicants to research-based graduate programs who are studying full-time are automatically considered for some types of funding at the time of admission.
Types of funding that do not require an application:
Entrance scholarships
Minimum funding packages
Teaching assistantships, research assistantships and graduate research assistantships
For more details on the above funding opportunities, see graduate student awards and funding.
Please note: Part-time students are not eligible for the above funding opportunities.
External awards and funding
Graduate program applicants are encouraged to apply for external awards to help finance their education. The application process differs for each competition, so review the information carefully to determine where and when you must apply. Please note: The majority of these awards are for domestic or permanent residents only.
Tuition fees for graduate programs are charged on a flat-fee or fee-per-credit basis and vary by program and student status.
For current, specific fees and details on flat-fee versus fee-per-credit programs, please see tuition and fees.