Accounting (Graduate Diploma)
Overview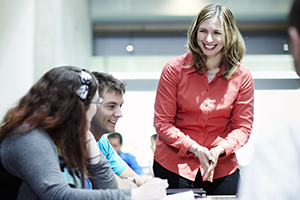 The Graduate Diploma in Accounting is a professional program accredited by the Chartered Professional Accountants (CPA) of Ontario.
The Graduate Diploma in Accounting is a professional program accredited by the Chartered Professional Accountants (CPA) of Ontario. The program emphasizes integration, problem solving, decision making and other CPA-enabling competencies to prepare prospective CPAs for the completion of the CPA Professional Education Program (PEP) and Common Final Examination (CFE), and for their careers. 
Upon successful completion of the Graduate Diploma in Accounting, students will receive credit for the first four modules of the CPA PEP, including Core 1, Core 2 and all four elective modules (assurance, finance, performance management and tax) and be eligible to enter the PEP at the Capstone 1 module. Students will be able to write the CFE within 12 months of completing the Graduate Diploma in Accounting, saving time in achieving their CPAs.
Benefits of our program
Enhance marketability when seeking a professional career in accounting.
Complete all four PEP electives (Assurance, Tax, Finance and Performance Management) for maximum flexibility in your career choices.
Save time! Successful completion of the graduate diploma program will allow you to write the CFE and become a CPA sooner.
Admissions
Admissions
Cumulative B+ average (GPA: 3.3 on a 4.3 scale or 77 to 79 per cent) or higher in courses required for admission to the

 

Chartered Professional Accountants (CPA) Professional Education Program (PEP)

 

(see list of courses below).
Grade of C (60 per cent) or higher in courses required for admission to the CPA PEP.
Completion of all courses required for admission the CPA PEP. Graduates of other Canadian universities are encouraged to apply if they have completed a business degree with a concentration in accounting and have met the requirements of CPA PEP and coverage of these courses is substantially equivalent to the courses taken by students from the university.
Required courses for admission:
Introductory Financial Accounting (BUSI 1130)
Intermediate Financial Accounting (BUSI 2130, 3130 and 3131)
Advanced Financial Accounting (BUSI 4130)
Introductory Managerial Accounting (BUSI 2180)
Intermediate Managerial Accounting (BUSI 3180)
Advanced Managerial Accounting (BUSI 4180)
Taxation (BUSI 3110 and BUSI 3120)
Auditing (BUSI 3170)
Statistics (BUSI 1450)
Finance (BUSI 2401 and 2402)
Information Technology (BUSI 3040)
Law (BUSI 3705)
Strategy and Governance (BUSI 4701) 
Economics (ECON 2010 and 2020)
Required supporting documents:
Please see the checklist of required documents for a list of supporting documentation that must be submitted with your application.
Required test scores for English language proficiency:
See English language proficiency for the minimum required test scores for this program.
Please see 
application deadlines
 for specific dates. Note that the application deadlines listed are for both the online application and all supporting documentation.
Applications for admission to all graduate studies programs are submitted online. There are five steps you must go through to complete the application process. See application process and requirements for step-by-step instructions.
---
Many of our graduate programs are extremely competitive; the number of qualified applicants normally exceeds the number of seats available for each intake. Satisfaction of minimum entry requirements does not ensure admission.
Additional information
For program requirements, including required number of credits for completion, program maps and course descriptions, please see
the academic calendar and course catalogue of
Loading...
.
Courses are subject to change without notice.
Applicants to professional or course-based programs are not normally considered for internal funding sources such as entrance scholarships, minimum funding packages, teaching assistantships, research assistantships or graduate research assistantships.
While external scholarships and awards for graduate students who fall under the above criteria are often limited, we encourage you to explore some of the external scholarship databases available for possible funding opportunities.
Tuition fees for graduate programs are charged on a flat-fee or fee-per-credit basis and vary by program and student status.
For current, specific fees and details on flat-fee versus fee-per-credit programs, please see tuition and fees.