Business Analytics and AI (Master's program)
Overview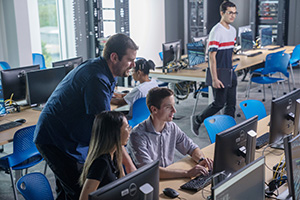 The Master of Business Analytics and AI (MBAI) prepares students for highly successful careers both in the private and public sector where data is used to make decisions.
The MBAI will give students insight in three main domains, which are applications of AI, Business Analytics and Management issues. Designed for graduates of Commerce or Business undergraduate degrees, this course-based professional Master program builds upon the core functional knowledge learned at the undergraduate level with a focus on advanced analytics and AI solutions to business problems.
The first of its kind in Durham Region, the MBAI is a market-driven degree in an in-demand field at the intersection of technology and business. Graduates from this program will be equipped with the skills, knowledge and networks needed to succeed in today's workplace as well as the ability to adapt to the ever-evolving workplace of the future. Students will be able to develop their strengths in digital economy, data analytics and artificial intelligence, all while building community and expanding connections with reputable industry partners. 
With over 2.5 quintillion bytes of data created every day, the need for graduates who understand how to work with data and help make sense of business, society and the planet is bigger than ever. Graduates will learn how to use the tools necessary to help leading organizations make sense of the past and predict the future using advanced analytics and AI. They will also be trained in how to manage the legal, ethical and moral issues surrounding the use of digital information in its many forms, including sensor data, images, text, voice and video.
By the end of this program, students will be able to:
Design and construct appropriate analytics solutions to solve business problems for data-driven decision making.
Conceptualize and produce impactful presentations to communicate complex information to various stakeholders using data driven storytelling.
Examine, adapt, and appraise machine learning and AI models for business problems using commercial and open sourced technologies.
Systematically examine implications of analytic models from multiple perspectives including identifying issues' strategic value, business ethics, bias, privacy, trustworthiness and fairness.
Analyze data and use principles of database design implementation and administration.
Critically examine data quality and combine multiple data sources and formats in preparation of ingesting data into analytics models.
Create solutions using AI and analytics in new and existing business processes.
Systematically appraise and contract the significance and reliability of competing models and analytics methodologies.
Develop an understanding of the complexity of a complete data modelling project lifecycle from recognition and scoping to model maintenance.
Admissions
While applicants may hold any four-year honours undergraduate degree (or its equivalent from a recognized institution), preference is given to applicants whose undergraduate degree is in the field of business, management, economics, Informatics or related fields.
Minimum overall academic standing of a B (GPA: 3.0 on a 4.3 scale or 73 to 76 per cent), with a minimum B average in the last two full-time years (four semesters) of undergraduate work or equivalent. Work experience or a strong GMAT can be used in lieu of the GPA requirement
Successful completion of at least one course in information systems and one course in advanced mathematics (e.g., linear algebra, calculus, statistics etc.)
For non-English degree of study, the IELTS test of 7.0 or TOEFL of 100 is required
A curriculum vitae (CV) including the applicant's education, employment, teaching and research experience, and publications (if any).
Please see application deadlines for specific dates. Note that the application deadlines listed are for both the online application and all supporting documentation.
Applications for admission to all graduate studies programs are submitted online. There are five steps you must go through to complete the application process. See application process and requirements for step-by-step instructions.
---
Many of our graduate programs are extremely competitive; the number of qualified applicants normally exceeds the number of seats available for each intake. Satisfaction of minimum entry requirements does not ensure admission.
Additional information
Program courses:
Artificial Intelligence Programming
Big Data Systems Design
Business Analytics
Digital Transformation
Ethical and Legal Issues in Analytics and AI
Programming and Data Processing
Security, Privacy and Trust in AI Systems
Visualization and Storytelling
Choose either the Applied Integrative Analytics Project or Business Analytics Internship
For program requirements, including required number of credits for completion, program maps and course descriptions, please see
the academic calendar and course catalogue of
Loading...
.
Courses are subject to change without notice.
Applicants to professional or course-based programs are not normally considered for internal funding sources such as entrance scholarships, minimum funding packages, teaching assistantships, research assistantships or graduate research assistantships.
While external scholarships and awards for graduate students who fall under the above criteria are often limited, we encourage you to explore some of the external scholarship databases available for possible funding opportunities.
Tuition fees for graduate programs are charged on a flat-fee or fee-per-credit basis and vary by program and student status.
For current, specific fees and details on flat-fee versus fee-per-credit programs, please see tuition and fees.